1/18 Autoart Mercedes SL 600
Merhaba,

Tam bir yıl önce 2 Mart günü ilk konumuzu post ederek "hoşgeldiniz" dedik. Anne-babalar bilirler ki ilk doğum günleri çok özeldir.

1 yıldır, dioramalar, ölçekler, yapım süreçleri, çocukluk hikayeleri derken 11.000 defa görüntülendik ve 90 defa yorumlandık. Bir de facebook sayfası çıkardık içimizden.

Bu yıl da bahar bereketli olacak, bugün önümüzdeki bir kaç ayın konuları hakkında size bilgi vereceğim. Ve tabii ki sizin önerilerinizi de bekliyor olacağım. :)

Sonsuz sevgiler ve saygılar,

Hasan
Hello,

We said "Welcome" exactly a year ago, on Mar 02, 2012, by the first post. Parents know that the first birthdays are so special.

For one year, we have submitted dioramas, scales, production processes, childhood stories and been clicked around 11.000 timesand commented around 90 times. We also gave birth to a facebook page during it.

This year the spring will be very fruitful, too. Today I am giving a brief of the subjects those we will fallow during the next few months. I will also be following your suggestions, comments and even orders :)

Endlessly yours,

Hasan
1 - 1/18 Amerikan spor ve kaslı arabalar
1 - Some 1/18 American sport and muscle cars
1/18 Highway 61 1970 Dodge Challenger T/A Six Pak
1/18 Autoart 1970 Chevrolet Corvette
2 - 1/24 Klasik Arabalar; çoğunlukla Chevrolet, ayrıca sürpriz markalar
2 - 1/24 Classical Cars; mostly Chevrolet as well as some other surprizes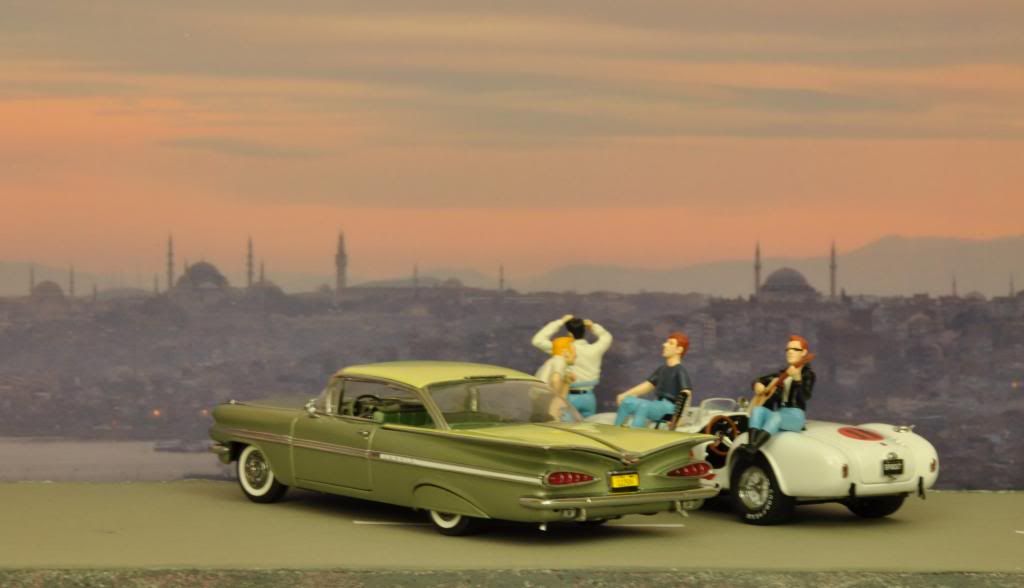 1/24 WCPD 1959 Chevrolet Impala - 1/24 Franklin Mint 1965 Shelby Cobra
1/24 West Coast Precision Diecast 1964 Chevrolet Impala
3 - Bazı 1/43 konular;
- Eski İstanbul, dolmuşlar, otobüsler ve diğerleri
- 404 Peugeot karşılaştırması; Universal Hobbies, Norev ve Ixo
- Alfa 155'in 3 hali
- Başka sürprizler
3- Some 1/43 topics;
- Old Istanbul, dolmushes, buses & coaches and the others
- Comparison of 404 Peugeots; Universal Hobbies, Norev and Ixo
- 3 types of Alfa 155
- Some other surprizes
1/43 Ixo 1946 Ford Fordor Istanbul Dolmus - Minichamps O 302 Mercedes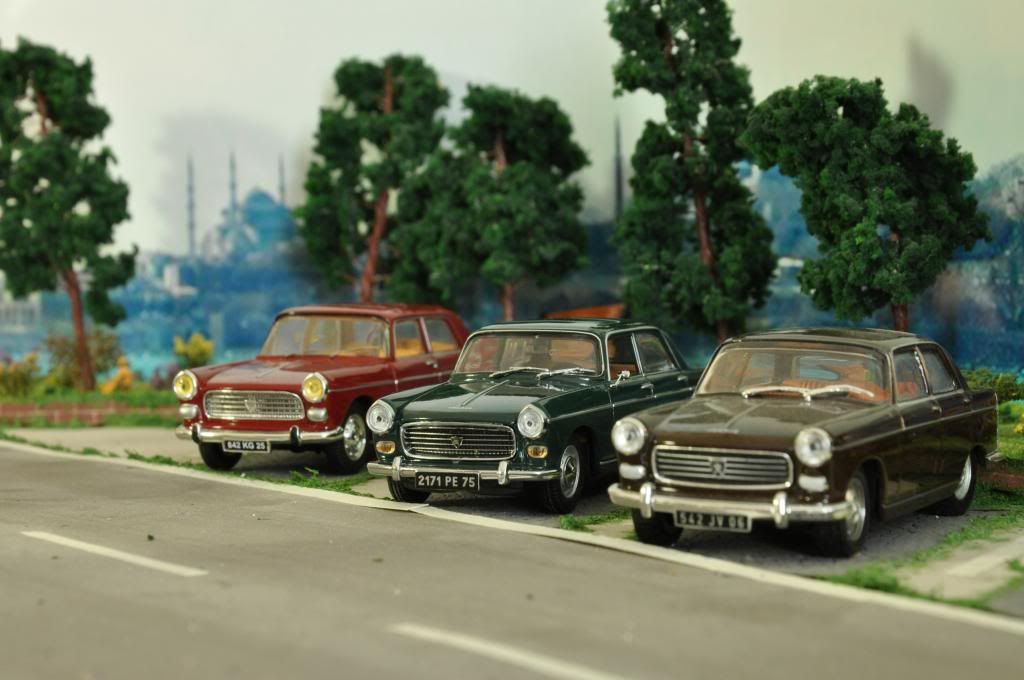 1/43 404 Peugeot - Norev, Universal Hobbies and Ixo
1/43 HPI Alfa 155 DTM
1/43 HPI Alfa 155
4 - Hem elit hem spor; tabii ki Avrupa'dan !..
4 - Both elite and sport; of course from Europe!..
1/18 Autoart Aston Martin Vantage V12
1/18 Autoart Alfa Romeo GTV 2.0
5 - Seçme Porschelar, CMC, Exoto ve Autoart'ın en iyisi
5 - Some selected Porsches, CMC, Exoto and the best of Autoart
1/18 CMC 1964 Porsche 901
1/18 Autoart 1973 Porsche 911 Carrera RS
1/18 Exoto Porsche 934 RSR
6 - En çarpıcı Mercedesler, 1/18 ve çoğunlukla Autoart, biraz da Norev
6 - Most stunning Mercedeses, 1/18 and mostly Autoart accompanied by some Norevs
1/18 - AA Mercedes E 320 W124, AA Mercedes 500 SEC W126, Norev Mercedes 560 SEL W126
1/18 Norev Dealer Mercedes CLS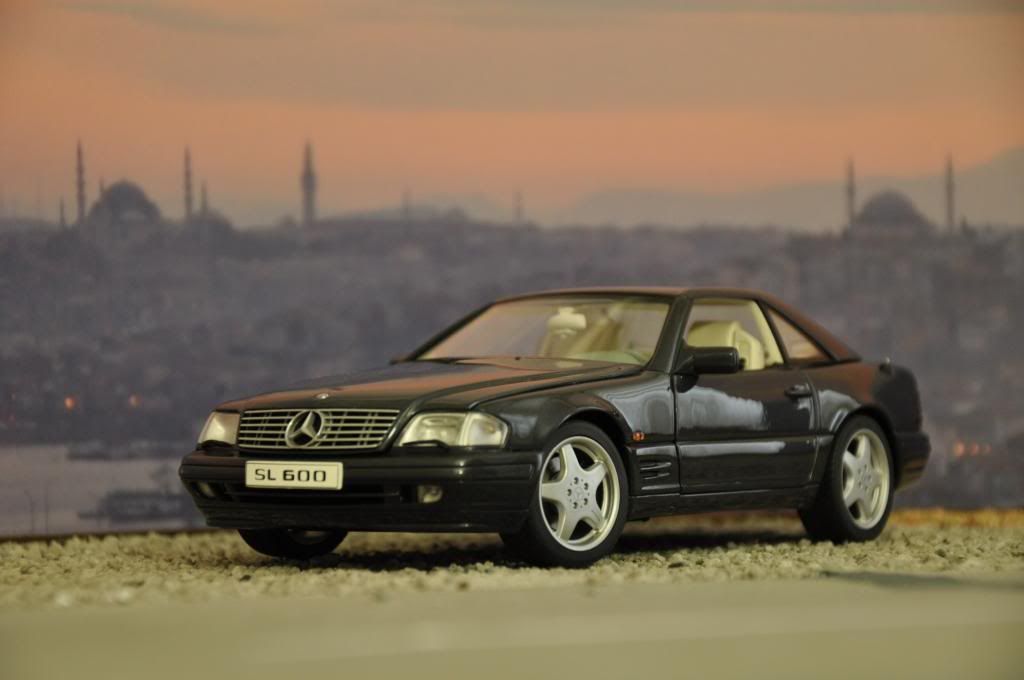 1/18 AA Mercedes SL 600
7 ve son olarak, yapım aşamasındaki yeni 1/18 diorama; S-Viraj. Bu blogda ilk defa bunun üzerinde göreceğimiz bir arazi ve bir rally arabasıyla beraber
7 and the end, a new 1/18 diorama being produced; S-Turn. Together with an off-road and a rally car those we will see first in the blog.
Blogdaki ikinci konuyu okuyanlar bu resimden çok şey anladılar bence
I think the photo made a great sense on the ones who read the 2nd post before.
Arazi aracı da buradaki olsun mu?
Would you like to see this on it as the off-roader?
1/18 Kyosho BMW X6
Şimdi konuşma sırası sende;
- Ralli aracını tahmin edebiliyor musun?
- Bu 7 başlıktan en önce hangisini görmek istersin? Mutlaka görmek isteyeceğin 2. konu hangisi olurdu?
- What would be the rally car? Make a guess please.
- Which of the 7 topics would you like to see first, the soonest? What would be the 2nd you most want to see, too?